Historic Sites
Historic Captiva Cemetery
Located adjacent to the Chapel-by-the-Sea, just beyond the Captiva Memorial Library at the corner of Chapin Lane & Wiles Drive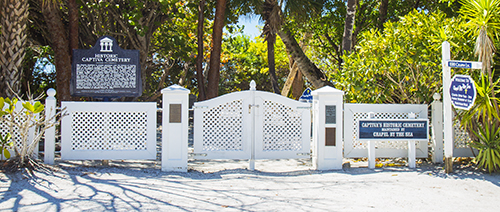 Within the white lattice fencing of Captiva's Historic Cemetery are the grave markers and headstones of many early settlers who came to Captiva in the late 19th century to homestead and farm.
William Herbert Binder (1850-1932), the first Captiva settler, homesteading on the island in 1888, is buried in the cemetery, along with George Washington Carter, a homesteader of the Captiva Island property that is now known as South Seas Island Resort.
The Historic Captiva Cemetery was listed on the National Register of Historic Places in 2013.
Captiva School & Chapel-by-the-Sea
Located just byond the Historic Captiva Cemetery at the corner of Chapin Lane & Wiles Drive.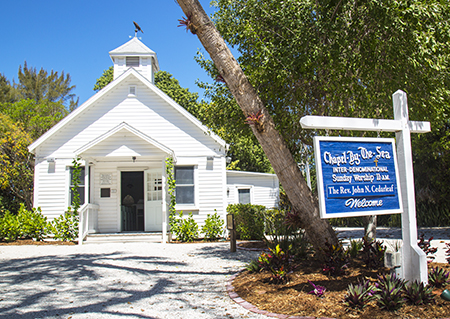 The building now known as the Captiva Chapel-by-the-Sea was built in 1901 as a one-room schoolhouse by the Lee County Board of Instruction. William Binder, the first settler to establish a homestead on Captiva, donated the land. As it was the first school on Schoolhouse, students from the island, nearby Sanibel Island and Buck Key attended classes here.
In 2013, the Captiva School and Chapel-by-the-Sea Historic District was listed on the National Register of Historic Places.
'Tween Waters Inn
Located at 15951 Captiva Drive, Captiva Island.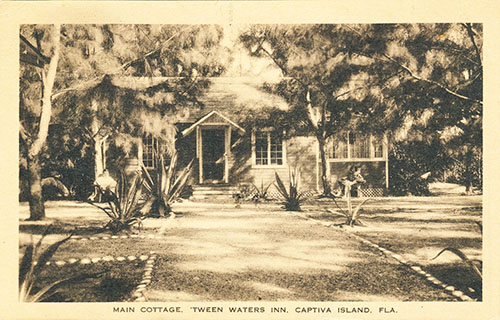 'Tween Waters was established by F. Bowman and Grace Price in 1931. They started with a single building and over the next 30 years expanded it with more cottages and other buildings. They built a remote tourist inn with its small cottages and restaurant into a social center and favorite winter resort of prominent northerners