Historic Captiva Cemetery
Located adjacent to the Chapel-by-the-Sea, just beyond the Captiva Memorial Library at the corner of Chapin Lane & Wiles Drive
Within the white lattice fencing of Captiva's Historic Cemetery are the grave markers and headstones of many early settlers who came to Captiva in the late 19th century to homestead and farm.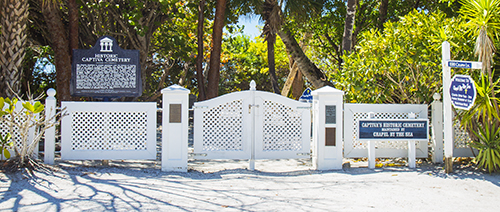 William Herbert Binder (1850-1932), born in Austria, was the first Captiva settler, homesteading on the island in 1888. Binder had been shipwrecked and floated to the safety of Captiva on a piece of wood. When he was rescued he made a promise to himself to return to Captiva, which he did in 1888.
In 1895, a four year old named Ann Brainerd, along with her family, moved from Canada to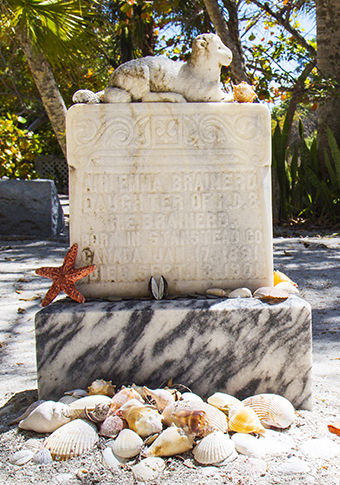 Buck Key, the small island just east of Captiva. Six years later, the young girl told Mr. Binder how this one part of the island was the prettiest place she'd ever seen. Binder was charmed and agreed to sell her that plot, less than an acre, for the price of a small gold coin she'd received from her grandparents prior to her family leaving Canada. She did indeed purchase this land from Binder, but tragically, shortly after their transaction was made, Ann stepped on a rusty nail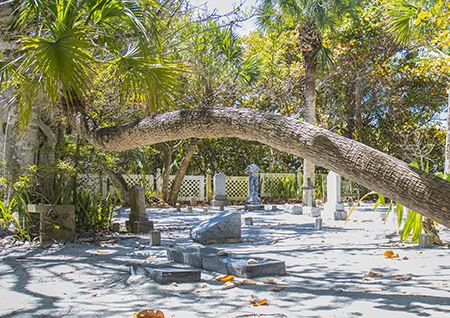 and subsequently died as a result of tetanus. Her family laid Ann to rest on "her land", which today is known as Captiva's Historic Cemetery. Visitors continue to place shells on her lamb-topped tombstone to honor the memory of this special girl.
Ann's family surrounds her, and Mr. Binder is close by. Herbert and Hattie Brainerd lost an additional 10 infants, six of which are buried close to sister Ann. Herbert Brainerd died in 1914. His stone bears the Masonic emblem.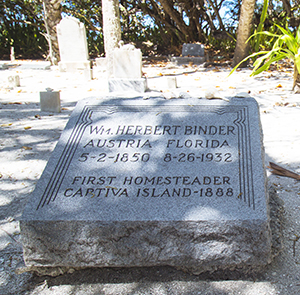 The grave of Hattie E. Gore, Captiva's postmistress from 1903 to 1940, lay equidistant between that of her first husband, Herbert Brainerd, and her second husband, Alvin M. Gore.
With no known living family, when William Binder died in 1932, Hattie Gore arranged to have him buried in the Brainerd family plot.
George Washington Carter, a civil war veteran from Trader's Hill, Georgia, was homesteader of the Captiva Island property that is now known as South Seas Island Resort.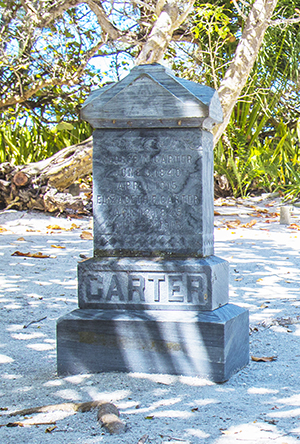 The Carter family, with their 8 children, arrived in 1900 and primarily fished for a living. They also planted and harvested sugar cane, citrus, and avocados. The hurricane of 1923 convinced the Carters to sell their property to Mr. Chadwick, the resort's first developer. Another confederate soldier is Henry P. Knowles, which records show had been present at the Confederacy's surrender to Union forces.
There are headstones for Lewis Austin Doane and his wife Jennie Upton Doane. Jennie Upton is a descendent of the pilgrim Mr. John Upton.
In 1954, the Chapel by the Sea was purchased from the Methodist Church and thus, the historic cemetery was deeded to the Chapel, who agreed to diligently maintain it. The first chair of the Chapel By The Sea Cemetery Committee was Beulah Brainerd Wiles, whose family originally donated the land.
The Historic Captiva Cemetery was listed on the National Register of Historic Places in 2013.