'Tween Waters Inn
'Tween Waters was established by F. Bowman and Grace Price in 1931. They started with a single building and over the next 30 years expanded it with more cottages and other buildings. They built a remote tourist inn with its small cottages and restaurant into a social ce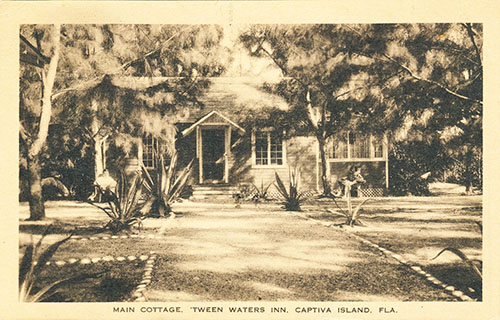 nter and favorite winter resort of prominent northerners.
Bowman Price provided guided fishing trips and Grace Price offered dining and entertainment in the Old Captiva House. The Old Captiva House, also on the National Register of Historic Places, was first built as a one room school house for the children of Captiva's pioneer settlers.
'Tween Waters has inspired artists, authors and countless others with its 19 historically preserved cottages named after some of its famous guests.
J.N. 'Ding' Darling, a conservationist and renowned editorial cartoonist who won Pulitzer
Prizes in 1924 and 1943, wrote and drew while staying at 'Tween Waters Inn for seven winter seasons between 1935 and 1942. He also helped to establish the Sanibel National Wildlife Refuge which was named in his honor in 1967.
The inn's visitors also included Ann Morrow Lindbergh, wife of famed aviator Charles Lindbergh, who drew inspiration for her best selling book "Gift From The Sea" (1955).
'Tween Waters Inn, has been the center of activity, destination of the adventurous and discerning and inspiration for the creative, while managing to maintain an "old Florida feel" throughout its storied past.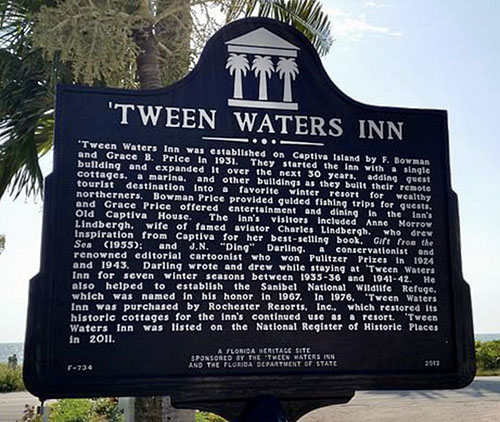 'Tween Waters Inn was listed on the National Register of Historic Places in 2011.