Open Air History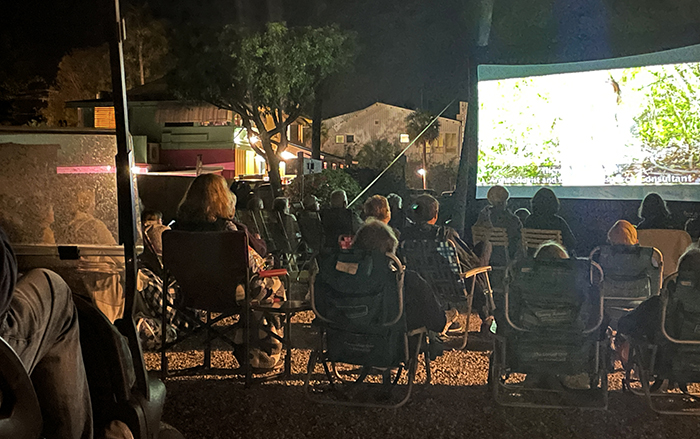 Monday evening, February 7th, a capacity audience of over 85 people enjoyed a beautiful night in the open-air environment of McCarthy's Marina watching a "double feature" of Captiva Island History Society's documentary films, "Our Mailboat Santiva" and "South Seas: An Enduring Paradise."
The second of the Captiva Island Historical Society's "Open Air History" programs this season was a cart-in/walk-in movie night that in many ways resembled an old-style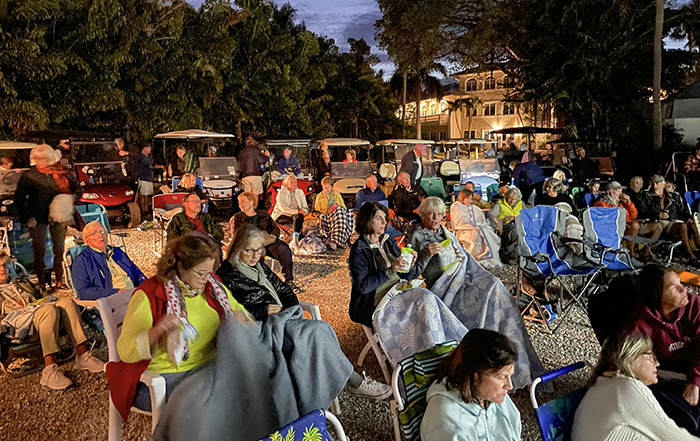 drive-in movie. The CIHS provided bags of popcorn and movie candy, as many viewed the films from the comfort of their golf cart, while others watched from their chairs.
Capacity audience awaits the start of the "double feature" presentation
As dusk settled in, CIHS President Tom Libonate welcomed the capacity audience and extended a word of thanks to Captiva Cruises/McCarthy's Marina for generously sharing their parking lot for use as an outdoor cinema.
He then thanked The Sanibel Captiva Trust Company for their season sponsorship, along with the hardworking Board of the CIHS. Mr. Libonate went on to say, "It's wonderful to be able to present our documentaries in a unique and historically-centric setting" (McCarthy's Marina is a recognized historical site). "There's no better 'theater' than one surrounded by the natural beauty of our barrier island."
The double feature opened with the CIHS documentary short "Our Mailboat Santiva" which chronicles the boat, its owners and crew and the daily voyage, before the causeway,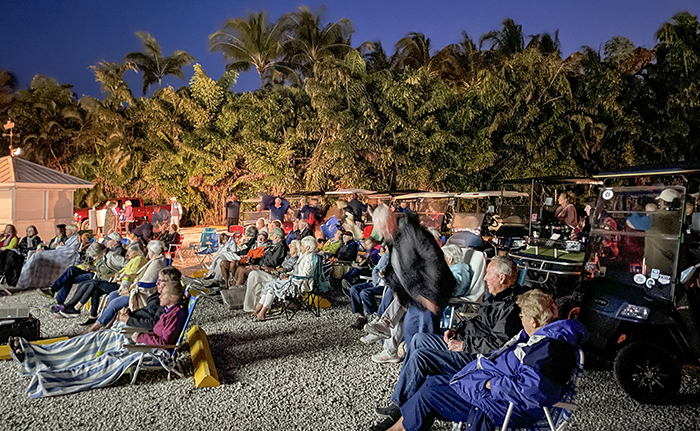 delivering mail and provisions to the folks of Sanibel and Captiva islands.
It was followed by the CIHS documentary "South Seas: An Enduring Paradise." The full-length documentary tells the story of storms dividing the island in the early 1920s, displacing many families. It chronicles the original settlers of the northern tip of Captiva, the property's owners and the history of its transition from farming, fishing, and operating planation to hospitality.
The Captiva Island Historical Society is excited to premiere the latest documentary film in its "Captiva Memories" collection, "Tight Lines & Big Fish Stories: The History of Angling on Captiva" at the Ballroom of South Seas Island Resort on March 7th.
Photos courtesy of Nancy Riley