Hattie Brainerd Gore
Hattie Brainerd her husband, adopted son Gordon, and daughter Ann, moved from Canada to Fort Myers in 1896. Before marrying Herbert Dwight Brainerd, Hattie's maiden name is unknown.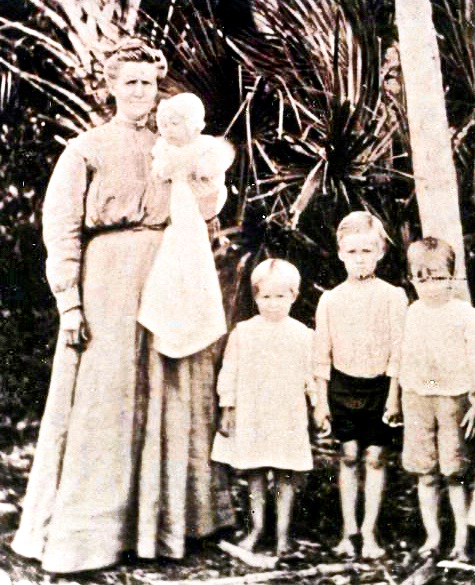 Hattie and her family moved to Buck Key in 1900, one of the early families to arrive in the island's Wulfert settlement. There they built a small two-room house with palmetto thatched roof. It is said that in the three years they lived on-Buck Key, Hattie lost two infant babies, having lost two during her time in Ft. Myers.
In 1903 she crossed Roosevelt Channel to Captiva, purchasing 23 acres of Gulf to bay property from the island's first homesteader, William Binder.
Over the years, the home they built on the bayside – just south of what is now the Green Flash Restaurant - was added on a room and porch at a time.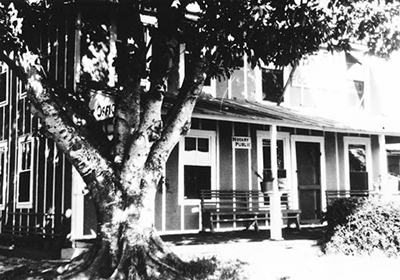 Herbert Brainerd died in 1914. Hattie remarried Alvin M. Gore of Isabel, Kansas on November 23, 1916.
The home she built and expanded over the years eventually became Hotel Camp Gore, with Hattie its manager. Additionally, she became the second postmistress on Captiva, the post office beings located at the front of the hotel.
The Captiva post office located at the front of the Gore Hotel.

Even after Alvin Gore passed away in 1934 she continued her duties as postmaster and operating the Gore Hotel. She passed away in 1945 at age 82.
Hattie's legacy goes much deeper. It was her daughter Ann Brainerd, who in 1901 at age 10 told the island's first homesteader, Mr. William Binder, how she loved this one parcel land, saying it was the prettiest place she'd ever seen. Binder was charmed and agreed to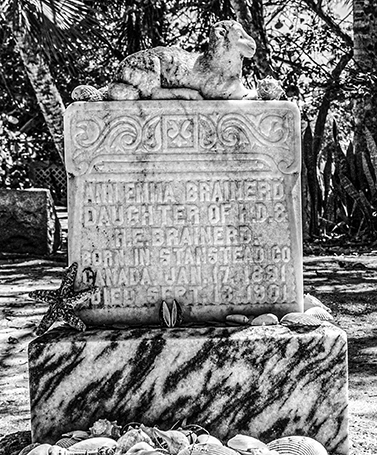 sell her that plot, less than an acre, for the price of a small gold coin she'd received from her grandparents prior to her family leaving Canada.
Hattie's daughter Ann purchased the land which became Captiva's Historic Cemetery, and became the first to be laid to rest there
Shortly after their transaction was made, Ann stepped on a rusty nail and subsequently died, because of tetanus. Her family laid Ann to rest on "her land", which today is known as Captiva's Historic Cemetery.
Herbert and Hattie Brainerd had the misfortune of losing an additional 10 infants, six of which are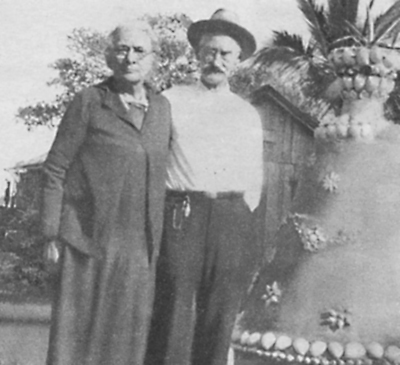 buried close to sister Ann.
Hattie's granddaughter Beulah is also part of Captiva history, marrying T.M. "Timmy" Wiles, who built Timmy's Nook, and following her grandmother as Captiva's postmistress.
With no known living family, when William Binder died in 1932, Hattie Gore arranged to have him buried in the Brainerd family plot in the Captiva Historic Cemetery.
Hattie and Alvin Gore standing by a shell fountain near the Gore Hotel on Captiva.