Walking Tour
Captiva Self-Guided Walking Tour of Historic Landmarks
1. CAPTIVA'S HISTORIC CEMETERY
11580 Chapin Lane
On a portion of the patent parcel deeded to Captiva's first homesteader, William Herbert Binder, a commemorative tablet within the cemetery tells the poignant story of its first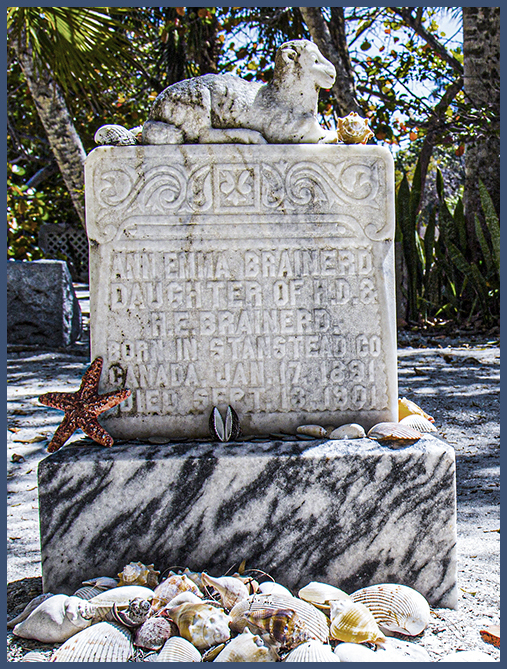 occupant 10-year old Ann Emma Brainerd and the significance of Captiva's cemetery as recognized by the National Register of Historic Places.
In 1895, a four year old named Ann Emma Brainerd moved, along with her family, from Canada to Buck Key, the small island just east of Captiva. Six years after their arrival, the youngster was heard to say how this one particular part of Captiva Island was "the prettiest place" she'd ever seen. Charmed by little Ann's observation,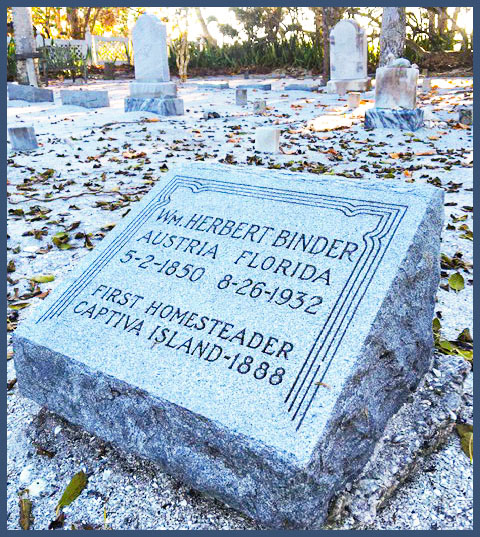 Binder proposed to sell her a portion, less than an acre, for the price of a small gold coin Ann had received from her grandparents prior to her family leaving Canada. Tragically, soon after this exchange, Ann died as the result of tetanus. Ann's lamb-topped headstone is within this sacred space, as are the graves of Mr Binder and other Captiva homesteaders and residents, some of which were soldiers in the Confederate Army. The cemetery, approximately 2 acres in size, was donated to the Captiva Chapel by the Sea by the family of Beulah Brainerd Wiles.

2. CAPTIVA CHAPEL-BY-THE-SEA
11580 Chapin Lane
The Chapel building was erected in 1901 on land donated to Lee County by Captiva's first homesteader William Binder. It is the oldest former schoolhouse in Lee County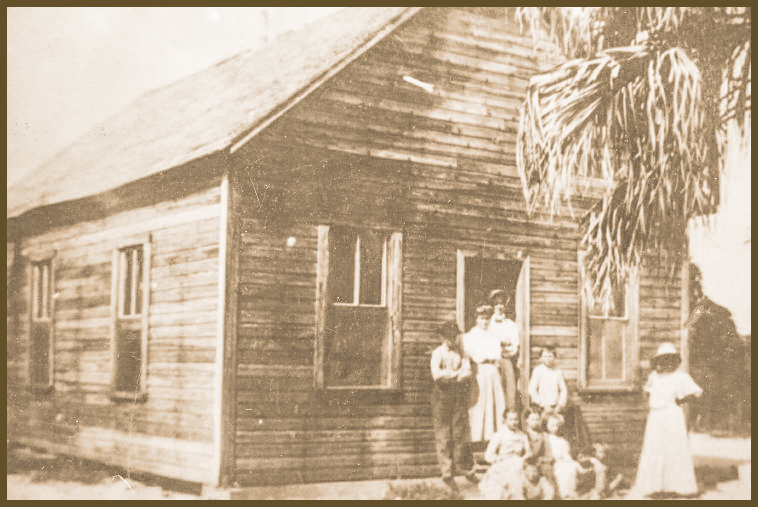 remaining on its original sight. In 2013 "Captiva School & Chapel-By-The-Sea Historic District" was added to the National Register of Historic Places.
Austrian-born William Herbert Binder was Captiva's first documented resident. Binder had been on a freighter headed to New Orleans when he became victim of shipwreck and managed to float to Captiva Island. When he was rescued, William Binder made a promise to himself to return to this land, which he did in 1888. Mr. Binder was awarded Captiva's first homestead patent, consisting of just under 170 acres, in 1896.
Subsequently, Binder donated this portion of land to the Lee County Board of Public Instruction and, in 1901, a one-room schoolhouse was erected; welcoming students from Captiva, Buck Key, and Sanibel. During that time, the schoolhouse also served as a place of worship and, when a circuit rider could be found (and convinced!) to brave the journey from the mainland, there was a church worship service with plenty of camaraderie and food to follow.
In 1921, following the close of the schoolhouse two years prior, Captiva residents T. Bryant, A.M. Gore, and Jessie Carter, acting as "Trustees of Methodist-Episcopal Church South", purchased the building and land from Lee County for $400.
Captiva Chapel-By-The-Sea, incorporated in 1954, purchased the Chapel site from the Methodist Conference for $2,500.
In order to keep the Chapel truly inter-denominational, Chapel bylaws require a new minister be appointed every three years. Chapel founders also resolved no minister of the same denomination should follow the previous minister.
3. CAPTIVA MEMORIAL LIBRARY
11560 Chapin Lane
Captiva's first "library" appeared in 1928 within the home of Dr. John R. and Julia Dickey. In the early 1960's a "book boat" (similar to yesteryear's "bookmobile") departed from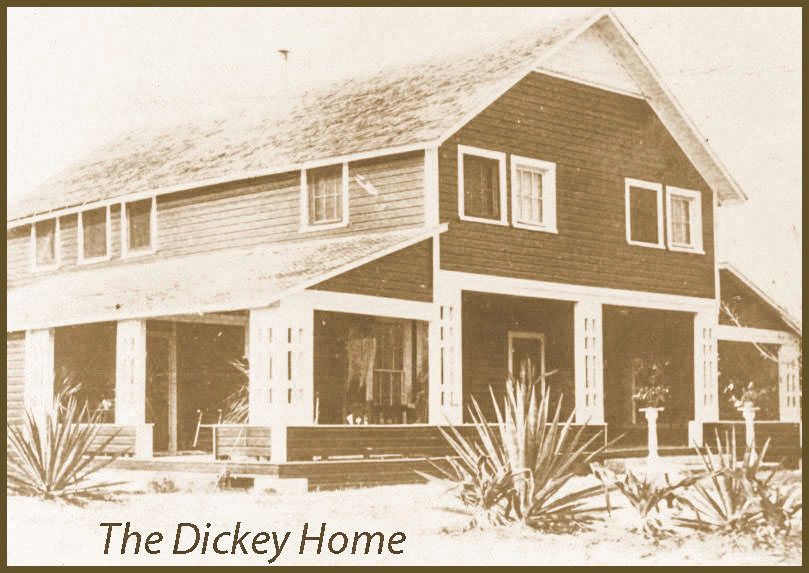 Boca Grande and serviced these barrier islands by offering books once a week to potential readers. The Captiva Memorial Library became a branch of the Lee County Library Service in 1967.
From 1939 to 1943, that "library" located in an office within the Dickey home boasted just under 300 books and was maintained by volunteers from the Women's Auxiliary of the Captiva Civic Association…or members of the Dickey household when volunteers failed to show up for their shift. By 1961 the library had moved to four shelves located in the Captiva Civic Association building and, from 1960 to 1962, Boca Grande winter residents Roger and Louise Amory operated their yacht, Papyrus II, as a "book boat" which visited, among other barrier island communities, Captiva Island once a week with books for loan. After the Captiva Memorial Library became a branch of the Lee County Library Service in 1967, an addition to the Captiva Civic Association was built and the library's official ribbon-cutting took place in 1970. The Captiva Memorial Library was so named because the entire cost of that 1970 project ($7,000) was raised solely by Captiva and Sanibel residents; no monies were received from any government agency.

4. HISTORY GALLERY
11560 Chapin Lane
Located within the Captiva Memorial Library, Captiva Island Historical Society's "History Gallery" is a replica of the mailboat "Santiva," one of a generation of mailboats that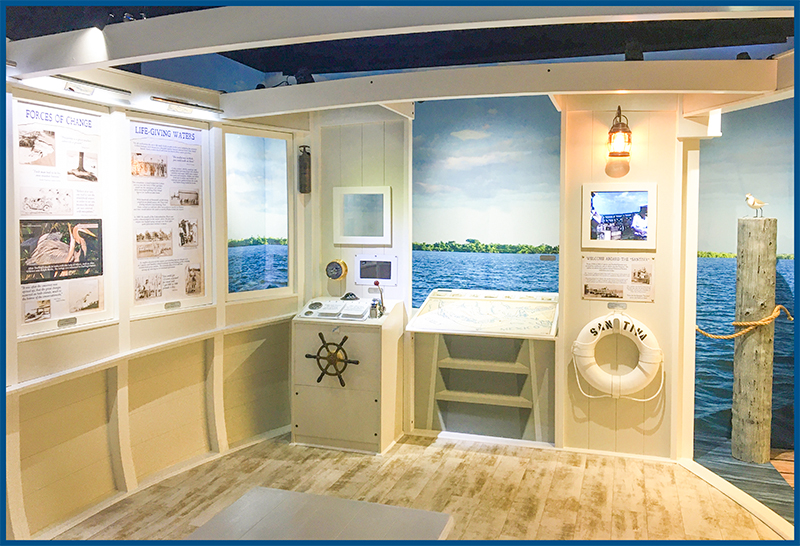 reliably serviced Captiva and Sanibel islands from 1936 until the completion of the Sanibel Causeway in 1963. Visit the "History Gallery", available to the public at no charge, during regular library hours.
Among the rotating exhibits aboard the "Santiva" you will find interpretive panels and videos featuring historic photos, films, and documents all depicting the varied history Captiva Island. The Captiva Island Historical Society built the "History Gallery" in 2015 and refashioned the space in 2019, updating displays and adding new features.

5. CAPTIVA CIVIC ASSOCIATION
11550 Chapin Lane
From the first meeting of "The Women's Auxiliary" in 1936 grew the "Captiva Women's Civic Group" and "Captiva Club." In 1959 these civic groups finally incorporated as the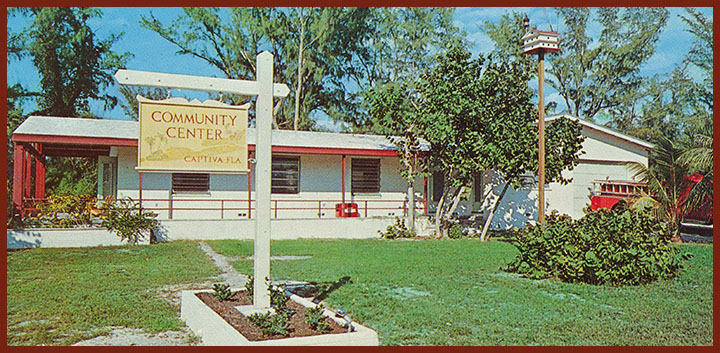 Captiva Civic Association (CCA). In 1960, a one-engine fire station was erected at the CCA building and was located in what is now the southeast side of the present structure.
The Women's Auxiliary (a.k.a. "Captiva Women's Civic Group" and "Captiva Club") was the first of its sort on Captiva Island. Members of early Captiva special-interest groups had varied interests and separate community groups were involved Red Cross fundraising, Hungarian Relief efforts, and even an Anti-Erosion Committee. The Captiva Civic Association was instrumental in organizing Captiva's first fire department, coordinating mosquito control, and giving a home to the Captiva Memorial Library.

6. JENSEN'S TWIN PALM RESORT & MARINA
15107 Captiva Drive
This property first appeared on county tax rolls in 1926. Early progression of ownership included Benona & Belle Zora Baker, C.B. Chadwick's Federal Realty & Development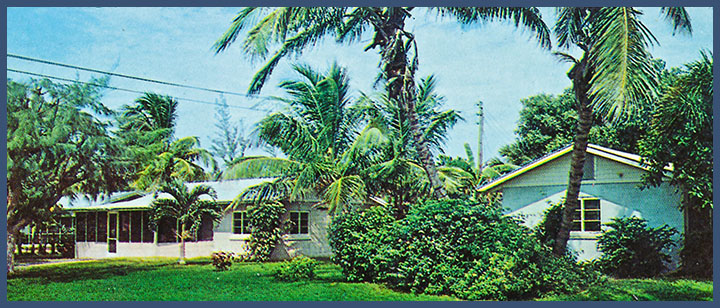 Company, Beulah Wiles (née Brainerd), and Ohio truck farmer John Engle. According to newspaper reports, Engle sold coconut palm trees and supplied "island stores and hotels as well as grocery stores in Fort Myers" with tomatoes, both of which he grew on the property. The cottages were built in the late 1940s during the Engle ownership and, from that time to the present, Twin Palm has been owned and operated as a resort by four successive families; Woods, Hughes, Doane and, since 1977, the Jensens. It was during the Doane family ownership the marina's dock was expanded and, in 1992, under the watch of Michigan-born, Jewel Tea Company door-to-door salesman Richard "Red" Jensen and his wife Betty, the Lee County Historic Preservation Board recognized the historic significance of this site.
On this property there are several cottages, each designed of a slightly different vernacular representative of that time. Buildings feature gable roofs, corrugated metal roofing, and wood casement or aluminum awning windows. Concrete block construction is predominate and includes block fabricated using sand and shell from Captiva's beach, a practice common in the island's development during the 1940s to the early 1950s.
Since its inception, Twin Palm has been known for its welcoming atmosphere. Sanibel's son Francis Bailey, Jr. recalls attending dances at Twin Palm while courting Engle's daughter Pauline, herself a professional dancer, whom Bailey would later marry. As a favorite destination for celebrities and dignitaries who mingle undetected amongst everyday people, it was co-owner John Jensen who may have expressed it best when he said, "somebodies come here to be nobodies."

7. ISLAND STORE
11500 Andy Rosse Lane
The building first appeared on county tax records in 1915 and has played numerous roles in Captiva history; boarding house, beauty parlor, school dormitory, general store,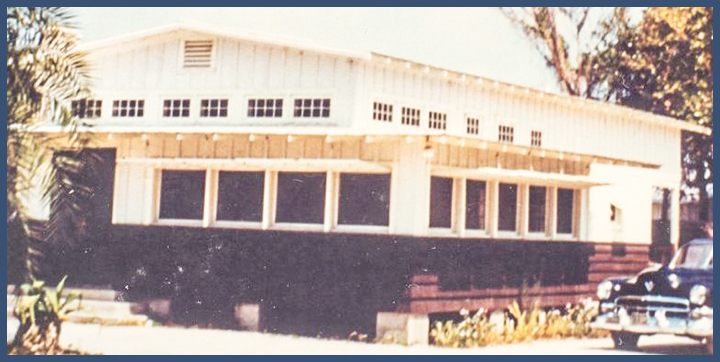 restaurant, hurricane shelter, architect's office, polling precinct - and rumored at one point to even feature a brothel! Owners of the building have been just as varied, ranging from thespian Irving Parker Mills to cartoonist/conservationist J.N. "Ding" Darling. The Lee County Historic Preservation Board designated the Island Store a historic resource in 1992.
Constructed of concrete block and wood siding this structure is significant both architecturally and historically. The center structure is currently recognized as a one-and-a-half story structure but originally the building stood two-stories tall and served, among other uses, as dormitory lodging for ten younger class-men of the Snyder School for Boys. Islanders recall the second floor was removed while under the ownership of J.N. "Ding" Darling. It was during the Darling ownership one of Captiva's more resourceful characters, Ina Watson, ran the store assisted by her son Paul Varble.

Other Island Store trustees include the original owner of the "Gulf View Inn" Mrs. Signe Wightman who, after moving off-island, would commute from their new home in Alva, Florida to operate a restaurant within this space, as well as Captiva residents Jack Van Bell and Ted Levering who also served tasty meals within the in-store dining room, where diners could eat dinner and place their grocery order at the same time. Opera-enthusiast Parker Mills and his wife Pintard Mills (associate librarian at Captiva Memorial Library) were also owners, as were architect George Tuttle and his wife Louise, Dick and Dee Hahn, and the Michael Gulnac and Larry Roberts families. The building underwent a major renovation in 2019-2020. Currently, the Island Store is operated by the Bailey family of Sanibel.

8. CITY DOCK / RANDALL HOUSE
11401 Andy Rosse Lane
The City Dock, where steamers and other watercraft would shuttle passengers and run goods, was an essential part of Captiva's community. A building located over the water at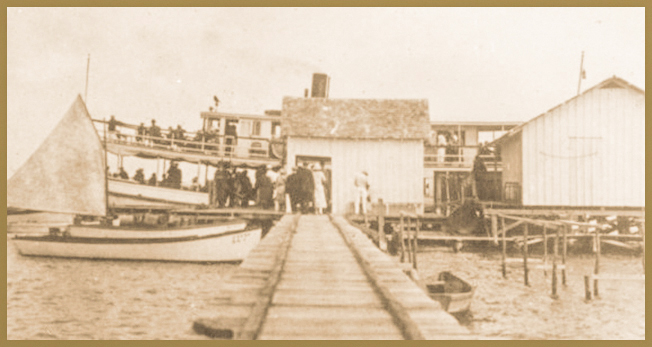 the end of the dock was built by Thomas F. Alderman, circa 1905, and sold to developer Charles Knapp in 1925. According to county documents, 4 years later Knapp's father-in-law C.D. Randall purchased "that certain store building located on the head of Captiva dock."
Serving the community as fish house, ice-house, and general store, C.D. and Annie Randall ("Pops" and "Mom" as they were affectionately known in the neighborhood) ran a tidy business at this over-the-water location. With a gas pump on location, customers could even drive their vehicles on the dock for a fill-up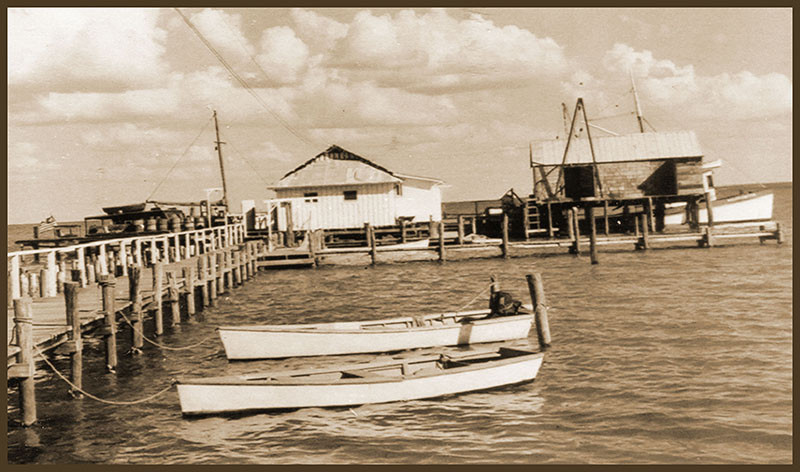 of petrol. After "Pops" death in 1939, his widow sold their bayside property to local fishing guide Anthony "Andy" Rosse and his wife Dessa. Andy purchased the property, circa 1940, for $800. which he'd borrowed from J.N. "Ding" Darling.

It was during the Rosse ownership, and with assistance from Darling, the business "Captiva Grocery" relocated to what is n.k.a. the Island Store. When the City Dock deteriorated, Rosse built a new dock right next to it and "Andy's Fishing Pier" was born and transformed into a restaurant & fish house and, soon-after, "Andy's" became the island's most popular bar. According to Rosse, it was "the kind of place where a fella and his girl could get a cold beer". Customers would
come for Dessa's Saturday night spaghetti dinners and Andy's impromptu guitar ballads and it would be no surprise to see local low-brows mingling with highbrows; among which were island visitors Adlai Stevenson and Countess Alexandra Tolstoy. In the 1990s the property was purchased by Boston-born Captiva resident Paul McCarthy and, following his death in 2016, the property was sold to employees Brad & Leslie Junghans and Bob and Jenny Rando, whom McCarthy considered family. Today, the team fulfills McCarthy's legacy by continuing a high standard of historic stewardship.

9. ISLAND HOUSE
14990 Binder Lane, Captiva
10. WILLIAMS / RIGGS HOUSE
14981 Binder Lane, Captiva
These are private homes. In respect to the privacy of the occupants, please view only from the street.
In 1912, a portion of William Binder's homestead (see description Captiva Chapel by the Sea) was sold to Captain Frank A. Lane and plotted as "Lane's Bay View Subdivision." The design of these two homes on Binder Lane is typical of early-to-mid 20th century development patterns on Captiva. Both residences are recognized by the Lee County Historic Preservation Board for their manifest significance of Captiva's past.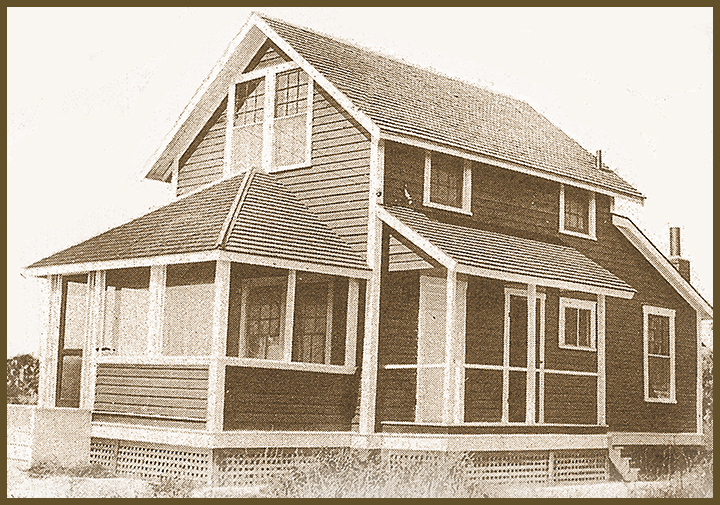 Island House is a two-story frame, vernacular residence purportedly built in 1918. The home features a front-facing gable roof as well as other architectural features typical of that period. There is a one-story enclosed front porch and a shed-roof addition on the north side. Following a succession of ownerships, the structure was eventually purchased in 1979 by Joseph and Nan Baer who, as stewards of this property, recognized the importance of this building and petitioned Lee County for recognition of the structure's historical significance. As evident through the many original architectural components which remain, the Baers continued to make renovations to their home using respect for its past. Today the structure remains in the Baer-Terrill family as a private residence.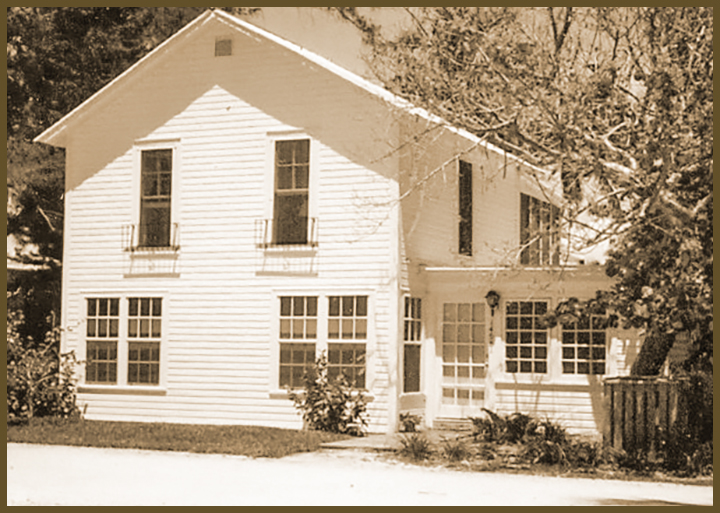 Williams/Riggs House was reportedly built in 1925 for attorney Robert Ransom Williams, Sr. and his wife Margaret for use as temporary housing while building their larger home, facing the bay. In 1947, the widow Williams sold to Frederich and Irene Rauh who added a top floor to the structure and used the lower floor as a garage for both their car and boat, while using the upper floor as maid's quarters. Upon a succession of ownerships, Betty Plume Riggs inherited the smaller house, renovating it in 1989 and in 1991 petitioning and receiving recognition by the Lee County Historic Preservation Board for the home's historical significance.

11. GULF VIEW INN / THE MUCKY DUCK
11546 Andy Rosse Lane, Captiva
Originally a beachside dressing room for Captiva's Fisherman's Lodge, the original structure was built in 1924 and over the years has served as private residence, hostelry,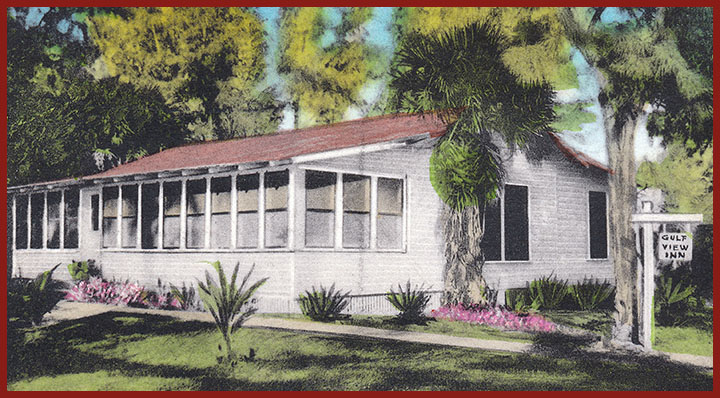 and restaurant. James Wightman purchased the 2-room dressing room in 1927 and later Wightman and his wife Signe would turn their modest home into the dining room of what they would eventually launch as the "Gulf View Inn". The Mucky Duck building was recognized in 1993 by the Lee County Historic Preservation Board."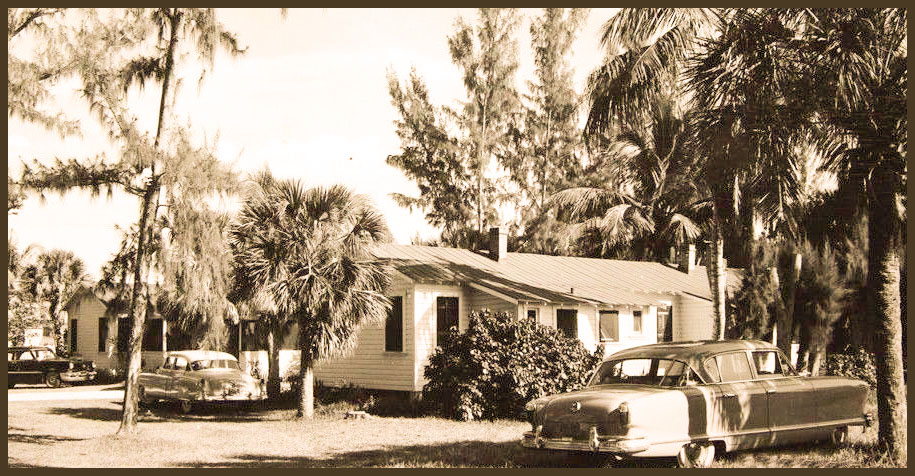 This building remained a public dining room as James and Signe Wightman went on to purchase several out-buildings to serve as lodging accommodations for their "Gulf View Inn," which operated from 1931 to 1946. Today, the existing building consists of a one-story section of the original historic structure on the western side, with several one and two-story, more recent additions. The original structure is a wood frame vernacular, which is still evidenced upon close inspection.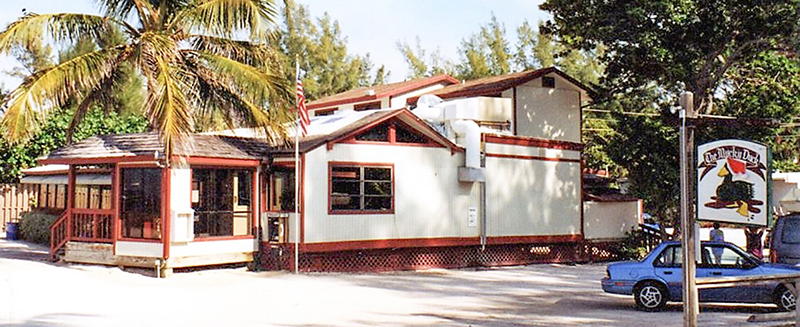 Following a succession of ownerships, which included the Wedekind and Kirby families, the last remaining building of what was previously the Gulf View Inn re-opened in 1976 as the Mucky Duck restaurant. Since that time owners have included the Mayeron family, Webb/Godard, and Andreas Bieri. Owner Thelma Mayeron is credited for petitioning the Lee County Historic Preservation Board to recognize this Captiva Island landmark as a historic resource.

12. 'TWEEN WATERS INN
11591 Captiva Drive, Captiva
With the first signature appearing in their guest book in 1931, today the inn still features several cottages and a portion of the dining room which date back to their original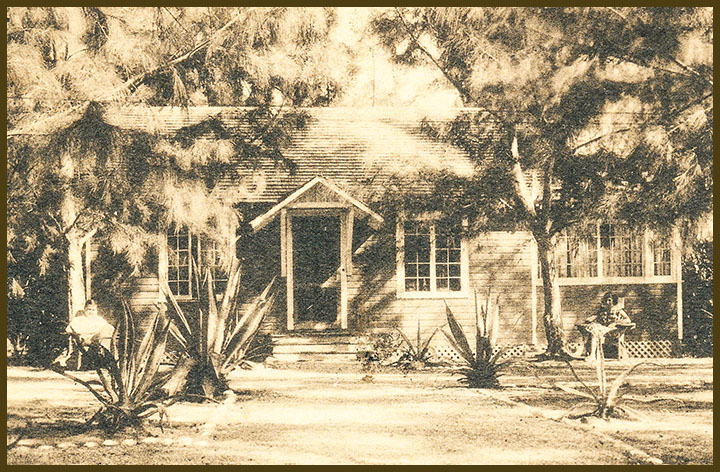 construction, circa 1930-40. After World War II, cottages #111 - 114 were transported from Buckingham Army Airfield to this location. In 2011, 'Tween Waters Inn was the first of, what are now, three Captiva Island landmarks included in the National Register of Historic Places.
In 1924 Bristol, Virginia residents Bowman and Grace Price took their doctor's advice and traveled south for winter and the following spring returned to purchase property on Captiva from John R. Dickey. This property included a small cottage belonging to the Dickey children's tutor, Reba Fitzpatrick. According to the Pr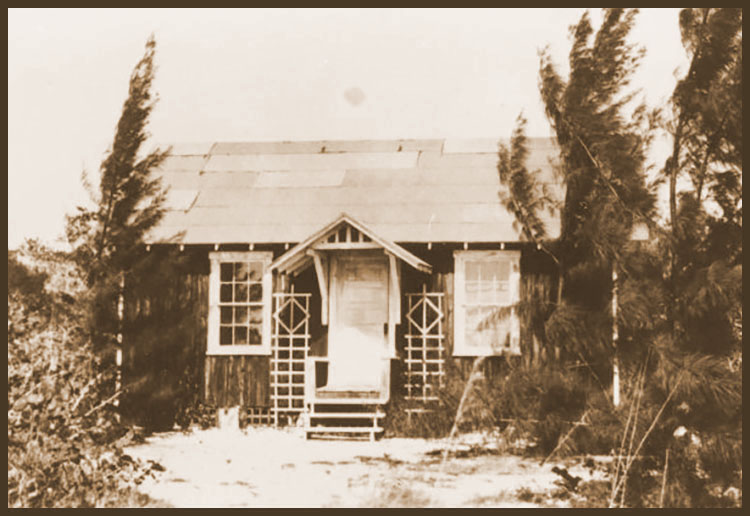 ice's daughter, her parents "remodeled it, did it over, added on a couple of rooms, and came back every winter. Then they built one cottage in front, towards the Gulf, that was to be just a little guest cottage for family and friends. But either the banks closed or something happened right then and there wasn't any money anymore, so they decided that if anyone came down to visit, they would have to pay. And that was the start of 'Tween Waters."
Originally known as "Price's Cottages," the hotel took the name 'Tween Waters Inn at the suggestion of conservationist/cartoonist J.N. "Ding" Darling who, along with his wife Penny, first stayed at the inn in March 1936 and became repeat guests; returning each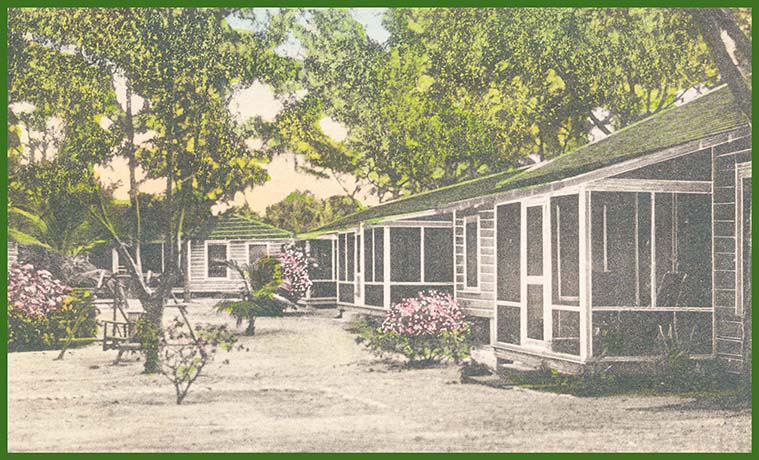 winter to cottage #103, with Ding's studio close-by in cottage #105, n.k.a. cottage #108.

While staying at a small cottage down the street, author/aviator Anne Morrow Lindbergh often took supper in the privacy of the dining room here.
In 1962, Grace Price sold 'Tween Waters Inn to her daughter Dorothy "Dottie" Price Wakefield and former son-in-law John Wakefield. The couple co-managed the resort until its sale in 1969. Original cottages have shingle hip roofs and exposed rafter tails and those cottages relocated from Buckingham Army Airfield feature gable roofs and exposed chimneys. Rochester Resorts purchased the property in 1974 and are credited for petitioning the National Register of Historic Places to include this notable landmark in their esteemed list, which took place in 2011.