History Gallery
Take A Cruise Back In Time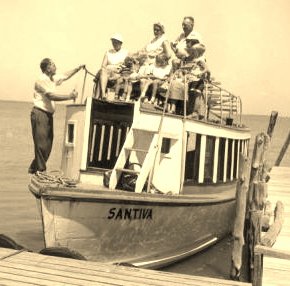 Before the Sanibel Causeway was completed in 1963 and opened for traffic from the mainland, the Santiva was one of a generation of mailboats that reliably traveled the waters of Pine Island Sound, ferrying passengers and delivering mail and provisions to the folks of Sanibel and Captiva Islands.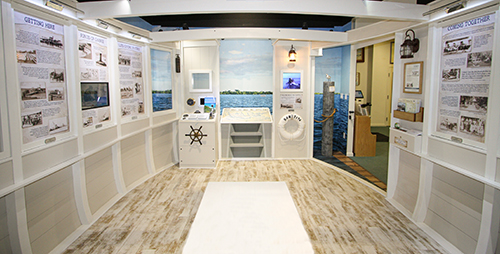 Though the actual mailboat is now just another island memory, you can take a virtual journey back to the simpler times of our islands aboard a replica of the Santiva, when you visit the History Gallery of the Captiva Island Historical Society.
Within the gallery, boat windows feature interpretive panels and touch screen access to historic photos, sure to excite one's interest in island lore. Meet the Calusa Indians, the fishermen, the homesteaders and their families, all hardy residents of the islands.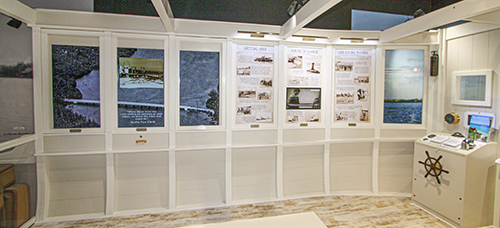 Back in its day it cost $1.75 for a full day, 72-mile round trip excursion on the Santiva. Today you can make the journey for FREE, 5 days a week, from the Captiva Island Historical Society's Gallery.
Established in 2011, the Captiva Island Historical Society was an outgrowth of the pioneering and well received oral history work of the Captiva History Project, founded in 2010 by Stella Farwell. In 2013, the CIHS was granted space in the newly renovated Captiva Civic Center, to recognize and remember Captiva's unique and diverse history.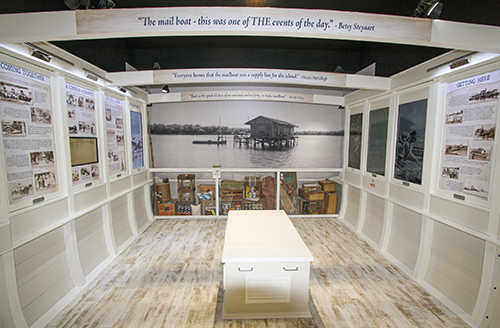 Through generous donations this History Gallery was completed in April 2014, and updated in December 2019.
Located in the Captiva Memorial Library, 11550 Chapin Lane, Captiva
The gallery can be accessed during library hours:
Tuesday 10am-6pm,
Wednesday 12pm-8pm,
Thursday 10am-6pm,
Friday 9am-5pm,
Saturday 9am-5pm.