Thomas Mahlon "Timmy" Wiles, Jr.
In 1926 a powerful hurricane struck Sanibel and, immediately after, most of its residents moved to the mainland. However the Thomas Wiles, Sr. family, who had arrived on the island just the year before, were among the 80 who chose to remain. In 1927 it was reported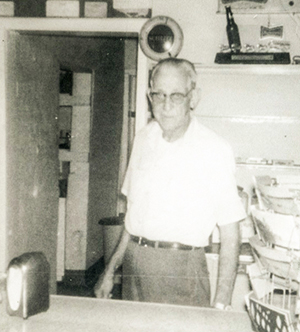 the family had 20 acres, harvesting mostly tomatoes, which were transported by ferry to the Fort Myers rail station, making their way to be sold in destinations north.

Timmy Wiles behind the counter of "Timmy's Nook" in 1966

After several setbacks, including that devastating hurricane of 1926 which left the family's land covered in saltwater and the death of his mother in 1927, Thomas Mahon "T.M." Wiles, Jr. made the decision to leave the family farm and apply his strengths to other laborious endeavors including fishing, yard work, and ultimately working at Bailey's store, located on Sanibel's bayside.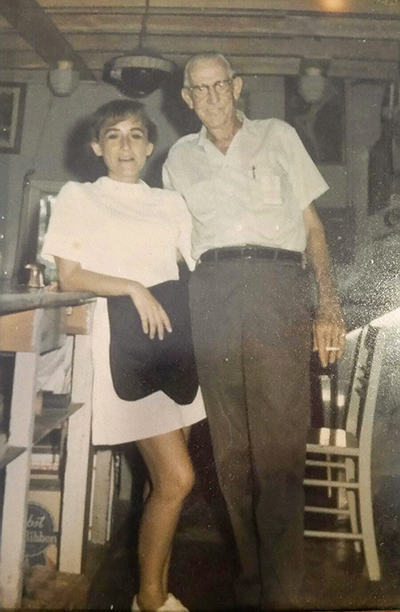 1928 brought a June wedding for T.M. Wiles, Jr. and Ruth Muriel Carter, a marriage which lasted four years.
Timmy and Dixie at the "Nook"

Records reveal in 1933, T.M. Wiles Jr and Beulah Mae Brainerd Parks had coupled and moved to Dover, FL. They returned to Captiva two years later to make their home. The granddaughter of Captiva pioneer Hattie Brainerd Gore, Beulah brought one daughter to their union and the couple went on to have 8 children together; six daughters and two (stillborn) sons.

Beulah served as Captiva's postmistress and T.M. Jr saw an opportunity to provide refreshments to those waiting for the mailboat. By then T.M. Jr. was being called "Timmy" by the locals as they'd mistakenly heard

T.M. to be "Tim."

Timmy erected a shack on Captiva's bayside, across the street from the house he'd built for his wife Beulah and their seven daughters. Some 55-years later, that same house would be the happy home of Queenie and Dave Jensen.

The little beer, wine and soda pop shack was well-received so Timmy started serving sandwiches.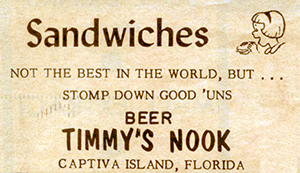 Next a bar was built, first as a thatched roof addition and later enclosed, and the space eventually expanded to a restaurant in stages; the kitchen and dining room not being part of the original structure.

"Timmy's Nook" started as a shack built in 1952 by T.M. Wiles, Jr.'s own hands and operated for 42 years. To this day it is remembered as the place where locals and tourists alike could count on the Wiles girls to serve up good times, affordable hamburgers, and icy cold slices of blueberry sour cream pie.