CIHS Commemorates The Island Store

On Thursday, December 10th, the Captiva Island Historical Society commemorated the 105-year history of Captiva's iconic Island Store, as part of the Bailey family reopening ceremony.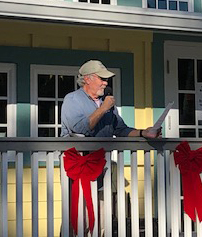 CIHS Board President Tom Libonate opened the ceremony with remarks featuring highlights of the various roles the building has played in Captiva's colorful history, since the building first appeared on the county tax role in 1915.
Captiva Island Historical Society President Tom Libonate
Mr. Libonate highlighted, "Starting as Mrs. Miller's boarding house, the building has been a beauty parlor, a dormitory for younger classmen of the Snyder School for Boys, a general store, a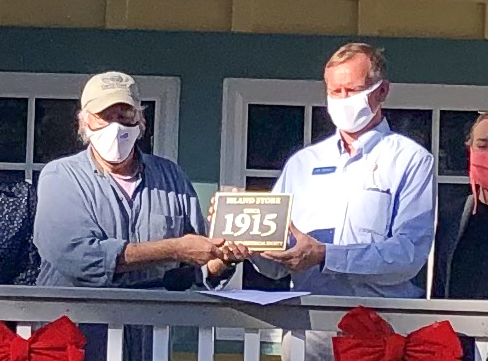 restaurant, hurricane shelter, architect's office, polling precinct - and rumored at one point to even feature a brothel."
Tom Libonate presents commemorative plaque to Richard Johnson
Mr. Libonate thanked Richard Johnson of the Bailey family for preserving its historic look and design through the recent, extensive year-long renovation.
On behalf of the Captiva Island Historical Society's Board of Directors a commemorative plaque was presented to Richard Johnson and his daughter Calli Johnson.
Following the presentation of the plaque Richard Johnson took the microphone for remarks which included thanking the Captiva community and the Roberts family, the building's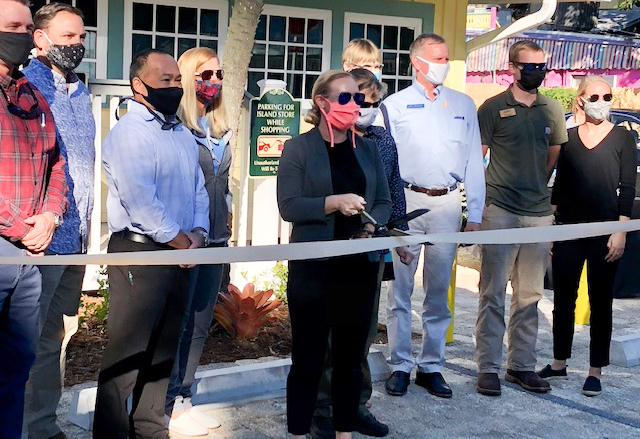 owner, for their support. Calli Johnson then cut a ceremonial ribbon representing the store's grand reopening.
Calli Johnson cuts ceremonial ribbon
Bailey's of Sanibel is the operator of the newly renovated Island Store. There is no family more apropos to be the stewards of this historic building than the Bailey family. It's hard to talk about island history without mention of the Bailey family. They hold an enduring place in island history having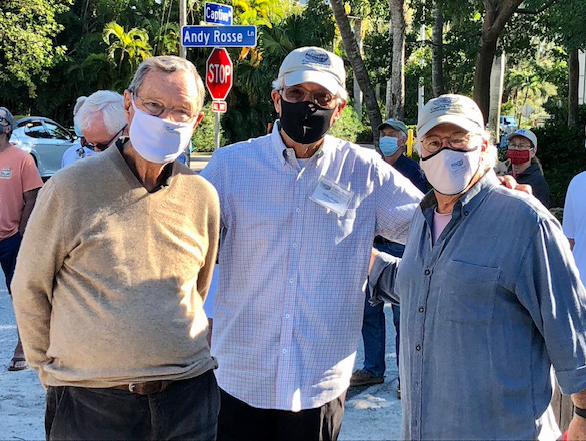 owned-and-operated Bailey's General Store on Sanibel since 1899. Richard Johnson and his family represent the continuation of the historic family legacy.
CIHS past and present officers (left to right): former and founding President
Jim Pigott, Vice President Mike Boris and President Tom Libonate
The reopening ceremony was well attended by many from the island community, which in addition to the Captiva Island Historical Society, included invited guests from the Captiva Civic Association, the Sanibel-Captiva Chamber of Commerce and the Captiva Community Panel.