CIHS Launches Season On The Water
On Wednesday evening November 8th the Captiva Island Historical Society launched its first event of the season with a sold-out sunset history-on-the-water program onboard the Lady Chadwick out of Captiva Cruises at McCarthy's Marina on Captiva. The evening signaled a return to post-Ian normalcy, after the hurricane had devastated both the 2022-23 CIHS Programs and
the Lady Chadwick herself. Eight events will now highlight the 2023-24 season of the Historical Society. Meanwhile, the full staff of Captiva Cruises lovingly collaborated on the restoration of the Lady Chadwick, after many people had doomed her to the trash heap.

CIHS Vice President Mike Boris welcomes guests attending the CIHS kick off event of the season.​​​​​​ aboard the Lady Chadwick.
The fully restored 'Lady' provided a sparkling venue for CIHS Director Brian Holoway to regale his enthusiastic crowd with stories about the history, the people and the culture of Roosevelt Channel and the Gulf
i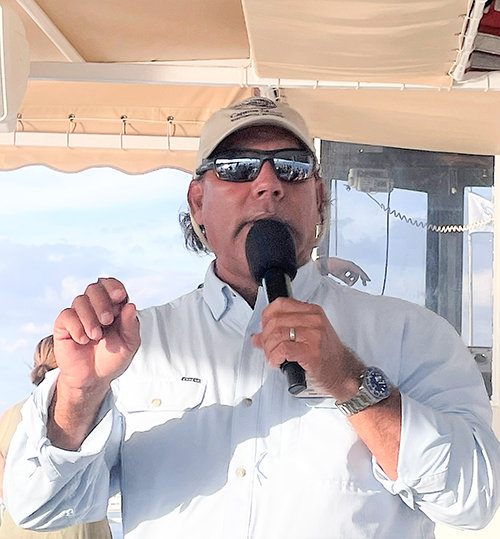 slands. The passing scenery took on new dimensions of meaning as Brian shared the lore and history of the sites.

Featured speaker Captain Brian Holaway shares his
extensive knowledge of Pine Island Sound and its history.
Tween Waters Inn Island Resort provided substantial platters of delicious hor d'oeuvres, thanks to Tony Lapi, a Director of CIHS, as well as President and Board Chairman of Tween Waters Resort and Spa.

Before the sun set Mike Boris, another CIHS Director, presented Bob Rando, a co-owner of Captiva Cruises/McCarthy's Marina, with a Paul Arsenalt painting of th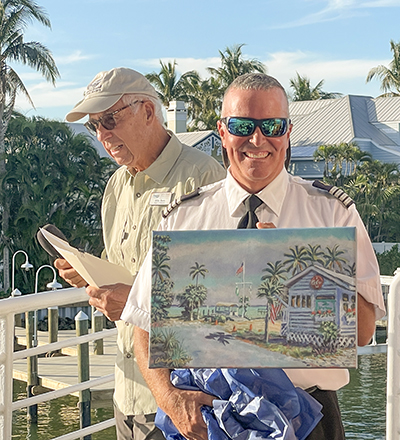 e historic 118-year-old building that houses the offices of the Marina. "Pops" Randall had built the structure as a house for himself and his wife in 1905. The next owners were Andy and Tessa Rosse, who lived there, and ran a store and popular bar at the end of the dock.
CIHS Vice President Mike Boris presents a gift of appreciation to Captiva Cruises
co-owner Bob Rando, a painting of the McCarthy's Marina historic building.
Bob and Jenny Rando and Leslie and Brad Junghans have owned the Marina since Paul McCarthy's death. In 2018 the Captiva Island Historical Society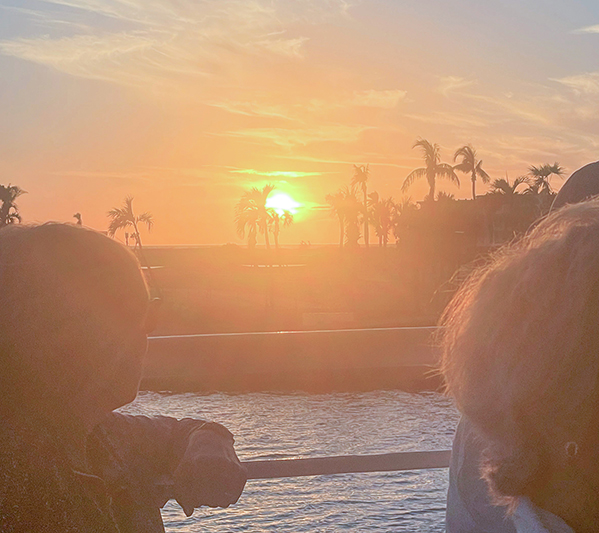 donated a plaque for the building to honor its history.
Nature did its part with another beautiful sunset to end the evening on the water.
As CIHS Board member Mary Jane Vinson commented, "The joy and laughter of the passengers onboard and a beautiful sunset made for a perfect trip."

CI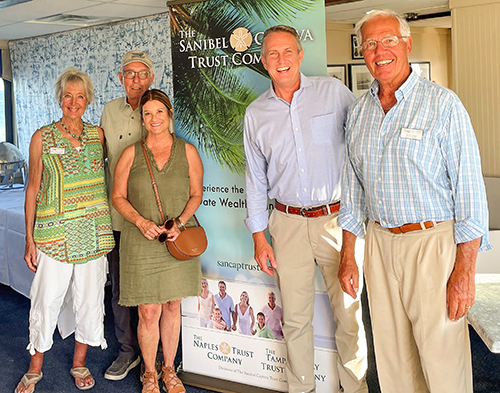 HS thanks the Sanibel Captiva Trust Company for their generous support as the Season Presenting Sponsor for 2023-2024.
Left to Right- Blair Wyatt Berry and Mike Boris, CIHS Directors;
Carolyn Rogers and Jeff Muddell of The Sanibel Captiva Trust Company; and Tony Lapi, a CIHS Director.
Watch the video and cruise along with Charter Captain, Florida Master Naturalist, and CIHS Director Brian Holaway as he shares stories of the history, the people and the culture of Roosevelt Channel, Pine Island Sound and the neighboring islands.