CIHS Presents Acclaimed Documentary
Monday evening, February 8, an audience of some 85 people enjoyed a beautiful night in the open-air environment of McCarthy's Marina watching the acclaimed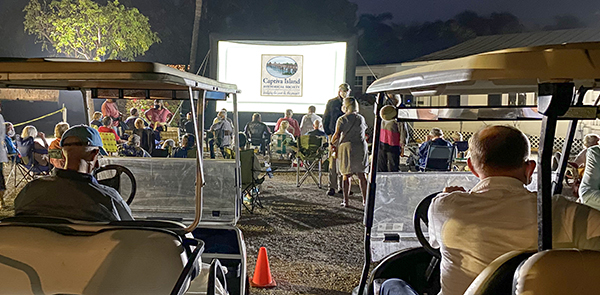 documentary film "Queen of Swing," by Florida filmmaker John Biffar, presented by the Captiva Island Historical Society (CIHS).
The second of the Captiva Island Historical Society's "Open Air History" programs this season was a cart-in/walk-in movie night that in many ways resembled an old-style drive-in movie. Many viewed the film from the comfort of their golf cart, while others sat safely distanced in their chairs.

The 2006 full length documentary film highlighted the astounding life of Norma Miller, the youngest original member of Whitey's Lindy Hoppers and the role she and her fellow artists played in the globalization of racial integration. Norma Miller, a Fort Myers resident, passed away in 2019 just shy of her 100th birthday.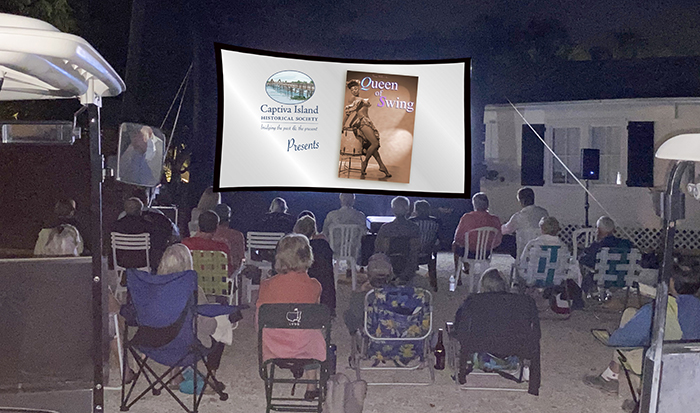 Following the welcoming remarks by Captiva Island Historical Society Board member Mike Boris, John Biffar, the film's director and producer introduced the film.
"It's a wonderful to be able to present acclaimed documentaries in a unique and socially comfortable setting" said CIHS President Tom Libonate. "There's no better 'theater' than one surrounded by pleasant weather and the natural beauty of our barrier island."
The program was sponsored and hosted by Captiva Cruises and McCarthy's Marina, the property of which is historically designated by the CIHS. The CIHS also recognizes the season presenting sponsor, The Sanibel Captiva Trust Company, for their continued support in helping defray the cost of our programs.
Join us Monday, March 8th when we return to the fresh-air environment of McCarthy's Marina for the CIHS presentation of the WGCU documentary film "Mullet: A Tale of Two Fish."
Photos provided by Nancy Riley and Tom Libonate