Got Hooked!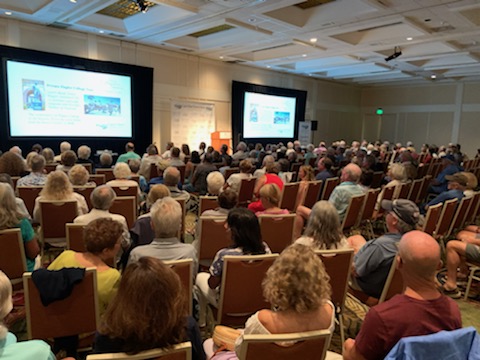 Monday evening, March 7th an audience approaching 250 got hooked by the Captiva Island Historical Society's "Tight Lines & Big Fish Stories: The History of Angling on Captiva," the ninth documentary film in the CIHS "Captiva Memories" collection. The film premiered in the Ballroom of South Seas Island Resort on Captiva.
Many have said Captiva was defined by fishing. The full-length documentary, the brainchild of the late Dave Jensen. Dave was a Founding Member of the CIHS Board, who actively served until his death in 2021.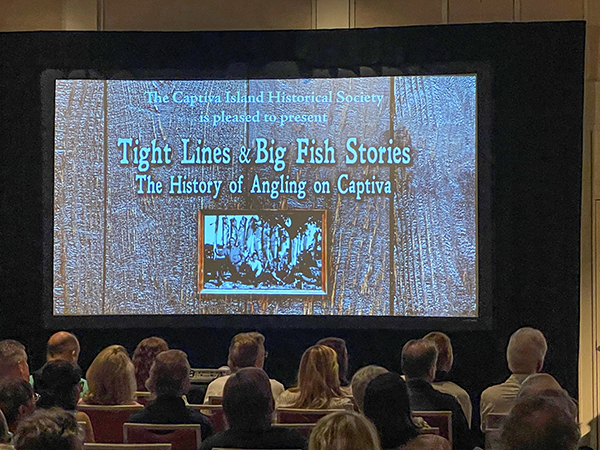 With rare film footage and photography, award-winning producer and CIHS documentarian Ken Sneeden reeled-in an enlightening tale of Calusa and Cubans fishing the local waters; of fish camps and commercial fishing; the immergence of sport fishing; the origins of fishing guides and the industry that developed to support the sport; and the famous visitors who came to Captiva to fish.
Best of all, a mix of engaging characters invigorate the film with their big fish tales.
The film incorporated footage from over twenty-five interviews. Many of those featured interviewees were in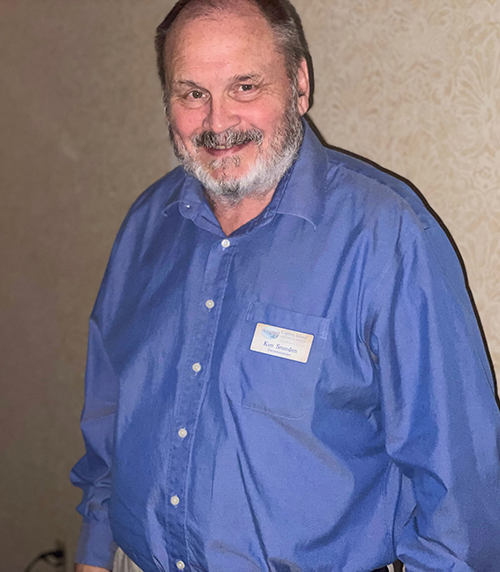 attendance for the premiere, including historian and author Robert Macomber, fishing gear historian John Jensen, Jay and Cindy Brown, Dan Stegmann and members of Captiva Rod & Gun Club, Dave Godfrey, Rich Stegmann and Kathy Kurtz Ferrari.
Ken Sneeden, CIHS Documentarian and film director and producer
During CIHS President Tom Libonate's welcoming remarks he acknowledged, "In terms of the depth of research and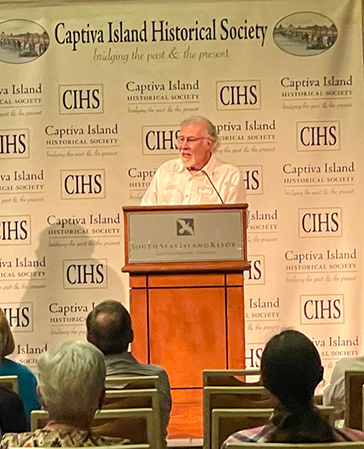 production quality, this documentary is by far our most ambitious to date. It's been in production for just over two years."
CIHS President Tom Libonate welcomes the capacity audience
CIHS documentarian and the film's director and producer, Ken Sneeden, spent hundreds of hours conducting interviews and researching historical records, including the rich online Archives of the Captiva Island Historical Society. CIHS Archivist Queenie Viglione also did her characteristic deep dive sourcing historical content.
The film was made possi
ble by the underwriting support of the CIHS Producers Club, composed of Jay and Cindy Brown, Dave Jensen and Queenie Viglione, Tony and Angie Lapi and Dan Stegmann and the Captiva Rod and Gun Club.
Historian Robert Macomber (center) one of the featured interviews
acknowledges documentarian Ken Sneeden, as Tom Libonate looks on
"Tight Lines & Big Fish Stories: The History of Angling on Captiva" will very soon be available on DVD and streaming on Amazon Prime. To order the documentary please click the tab below.
Photo credit: Nancy Riley and Nancy Glickman