Highlights of St. Augustine History
(Some excerpts are from Kathy Ferrari's article for the Island Sun)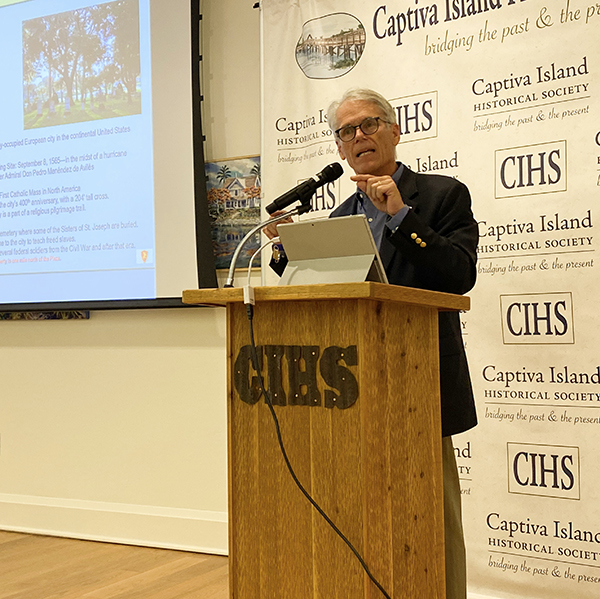 The Captiva Island Historical Society ended its season on April 4 with a presentation highlighting facets of the nearly 500-year history of St. Augustine.
Guest speaker Richard Goldman shares facets of St. Augustine history
An audience of over 80 filled the Captiva Civic Center for the finale of the CIHS season, as Richard Goldman, president and chief executive officer of St. Augustine, Ponte Vedra and the Beaches Visitors and Convention Bureau, shared stories of St.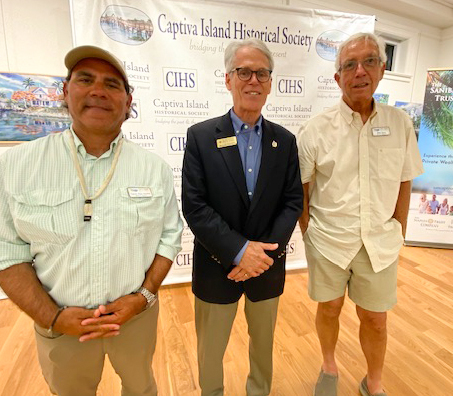 Augustine's fascinating history. As the oldest continuously occupied European settlement in America, St. Augustine's history is really a snapshot of American history.
CIHS Board Directors Brian Holaway (left) and Mike Boris (right) with speaker Richard Goldman (center)
Opening remarks by CIHS president Tom Libonate reminded the audience St. Augustine is where America's history really began, having been founded as a Spanish colonial outpost over 50 years before the Pilgrims landed on Plymouth Rock.
He went on to ask the audience this question, "Founded in 1565, St. Augustine, Florida claims to have: 1) the oldest wax museum in the United States, 2) the narrowest street in the USA, 3) the oldest wooden school building in the USA,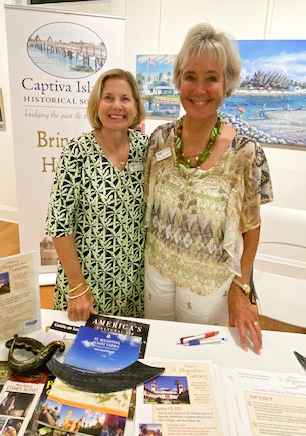 4) all of the above?" The audience voiced it's reply as number four.
CIHS Board Director Tony Lapi was called on to introduce guest speaker Richard Goldman, both having worked together previously on the Florida Visitors Board.
In the process of sharing highlights on historic St. Augustine, the program may have raised interest in the CIHS's planned trip to St. Augustine January 6 – 12 of 2023.
CIHS Board Directors Ginny Reiss and Blair Wyatt Berry offer information
about the CIHS's planned trip to St. Augustine next year

For more information on next year's "Historic St. Augustine Getaway"
click the button below.
View video of Richard Goldman's presentation highlighting facets
of St. Augustine's fascinating history.