History Under The Stars
Tuesday evening, January 11th the Captiva Island Historical Society returned to the open-air environment of McCarthy's Marina for the presentation of the WGCU documentary "Pink Gold Rush."
Back this year by popular request, the CIHS "Open Air History" programs are a cart-in/walk-in movie night that in many ways resembles an old-style drive-in movie.
An audience of some 50 people viewed the film from the comfort of their golf cart, while others sat in their chairs, learning about how Florida shrimpers first netted the nocturnal pink shrimp in 1949, bringing a frenzy of fishermen to Fort Myers Beach.
The 2014 WGCU documentary revealed that hundreds of boats once offloaded at the local shrimp docks. Today, fewer than 40 come to port as development, economics, and the environment take their toll.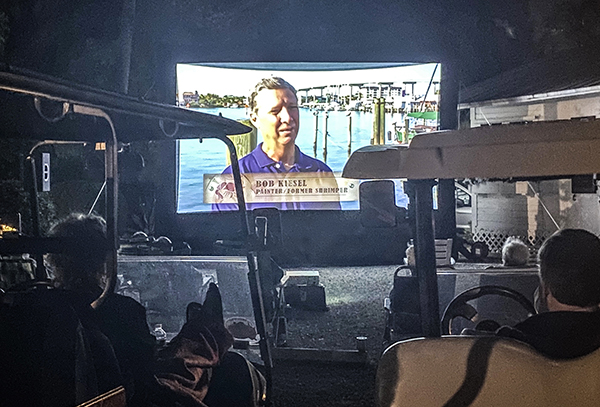 Interviews with some of the original shrimpers shared personal stories of the boom time, and the challenges and struggles they and their families faced over seven decades.
Following the welcoming remarks by Captiva Island Historical Society Board President Tom Libonate, the audience had the pleasure to hear Captain Dave Godfrey and Tres Pomeroy, both former commercial shrimpers, speak about their experience and hard work of a shrimper in the Gulf and Pine Island Sound in pursuit of the elusive and sought after "pink shrimp."
Both men where available at the conclusion of the film to answer the questions floated by audience members.
"It's a wonderful to be able to present acclaimed documentaries in a unique and socially comfortable setting" said CIHS President Tom Libonate. "There's no better 'theater' than one surrounded by the natural beauty of our barrier island."
The program was sponsored and hosted by Captiva Cruises and McCarthy's Marina, the property of which is historically designated by the Captiva Island Historical Society. The CIHS also recognizes the season's presenting sponsor, The Sanibel Captiva Trust Company, for their continued support.
Join us Monday, February 7th when the CIHS returns to the fresh-air environment of McCarthy's Marina for the presentation of two CIHS "Captiva Memories" documentary films: "Our Mailboat Santiva" and "South Seas – Captiva's Enduring Paradise."